August 18, 2015
Steve Hand-throwing Custom Pie Plates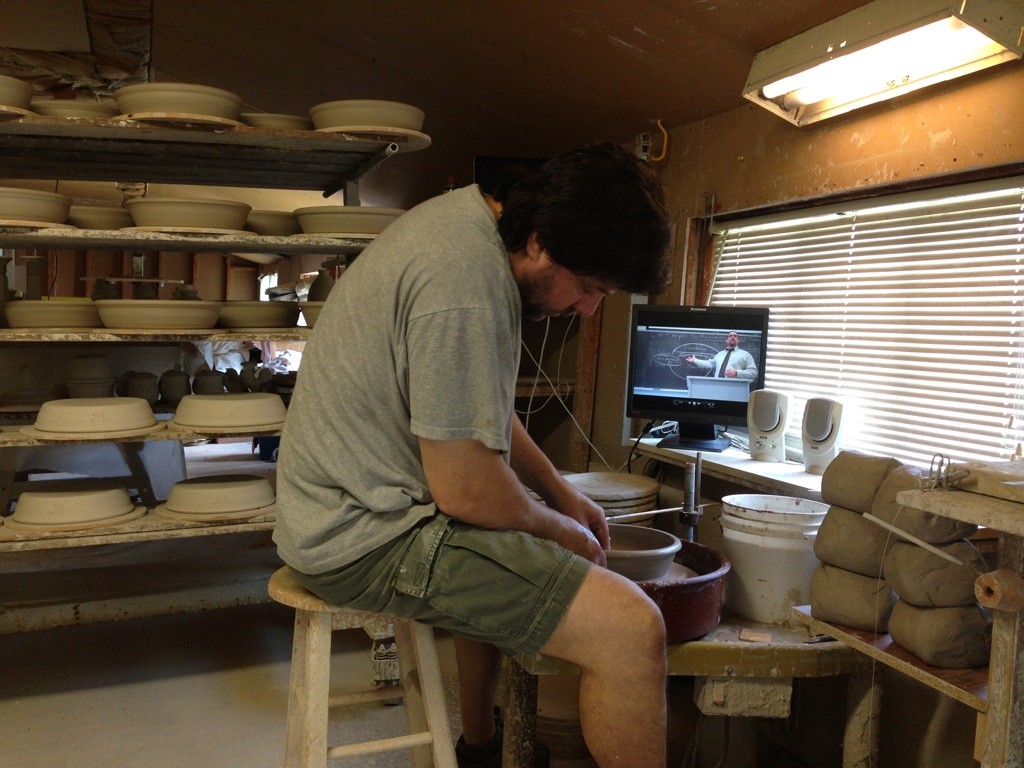 The Process of Making Handmade Custom Pottery for Fundraising
Did you all know that Bujno Pottery makes custom pieces for fundraising? Here's a little info on that…
I thought it would be nice to show some photos of our Bujno Pottery Fundraising Custom Stoneware along the stages. Here's a picture of Steve hand throwing the pie plates on the potter's wheel.
Notice each piece is made from scratch…he simply weighs out the clay, wedges it into clay balls, and that's it!  This makes each piece a unique, one-of-a-kind handmade creation.
He's been doing this for over 25 years now, so Steve likes to (watch…well, really just listen) to lectures while he throws 🙂
Once the clay 'sets up' to what is known as the leather hard stage, from the artwork Steve reproduced that was provided by the fundraising committee person, the image is literally embossed deep into the moist clay.
That means the image is not just on the surface!! It won't fade, rub off, or chip. The artwork is there to stay…for more lifetimes than your great-grandchildren will see!
Notice the 'Bujno Pottery' logo embossed on the outside rim!
They are then unloaded from the kiln onto our ware cart. I then personally inspect each one for quality craftsmanship. We ship all over the Unites States, but many within the tri-state region (Pennsylvania, Maryland, New Jersey) and others nearby (New York, Virginia, Ohio) like to pick them up during a planned visit to Lancaster County, PA.
Any ideas on using Bujno Pottery for a unique fundraising idea for your school, civic organization, historical society or community library? Give me a call, the process is easy, the set-up fee is reasonable and there is NO minimum!!!!
Talk to you soon!!  Tina, Owner of Bujno Pottery