November 9, 2014
Did you use your 20% off coupon yet? A little over two weeks left!!
We can't tell you how humble we are by those of you who have been with us for the last couple decades!! The 20% off coupon is the least we can do to show our appreciation.
But it expires on November 25th, so take advantage of the two times you are permitted to use it on your total purchase. That gives us enough time to personally make each and every piece and still have it shipped to you in time for Christmas.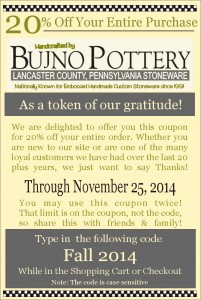 Remember, all you have to do is type in Fall 2014 while in your Cart or Check Out page, and 20% will be automatically deducted from your total cart purchase.
Any questions, do not hesitate to call me at 1-800-296-0874. Just ask for Tina!
Or if it works better for you, email me, [email protected].

Can't wait to hear from you!!!